Bradley Scott Malone - California single
Release date: May 14th 2021
Artist Information
Label: The Vault
Genre: Americana / Folk
Hometown: Pittsburgh, PA
Influences: John Prine, Jim Croce, Gregory Alan Isakov
Sounds like: Milk Carton Kids, Gregory Alan Isakov, Jason Isbell
Biography
"I want honesty and sincerity to come through in my music. These songs are reflections of my travels," shares Vault Records artist/BMI songwriter Bradley Scott Malone.
Bradley's travels have taken him from the U.S. Air Force; to almost netting a 1990s major label deal; to spiraling and bouncing off rock bottom many times again; to living with various family members and struggling to make ends meet with dead end jobs. Ultimately, Bradley's journey is a story of hope and soulful triumph. Bradley had a spiritual awakening in 1997, and hasn't had a drink since. He's happily married, and, in his 50s, Bradley is enjoying a creative renaissance as a signed contemporary folk artist and songwriter.
Today, the Pittsburgh-based artist returns with his sophomore EP, Shades Of Indigo, which will be his Vault Records debut. The 5-song EP will be preceded by the single, California. His music is a timeless slice of Americana, featuring songs of hope, heartache, and songs of wars both fought in the mind and on land. Bradley's songwriting recalls classic artists like Jim Croce, John Prine, and Don McLean, and contemporary acts like Mandolin Orange, The Avett Brothers, and Gregory Alan Isakov.
Bradley served in the U.S. Air Force toward the end of the Gulf War and was fortunate enough to be placed into the Tops In Blue. This military organization entertained the troops as part of a traveling American Idol-like talent show. It afforded Bradley the opportunity to gain the attention of prime music industry executives when he was just 24, but he was kicked out of Tops In Blue due to his alcoholism and chronic depression. He sank further when a possible major label record opportunity he had his heart set on vanished.
These would be Bradley's darkest days, and in turning his life around, he turned his back on music. In 2016, Bradley was laid off for a period, and decided to use his newfound free time constructively, revisiting and recording songs he had written 20 years ago and also summoning the muse to write some new tunes. He recorded his first EP at The Vault Studio. Studio and Vault Records founder Bob McCutcheon eventually signed Bradley in May 2019, recognizing in him a hard luck, poetic folk sensibility reminiscent of John Prine.
California is a stirring outlaw country track tastefully layered with modern ethereal ambience. "California" is a song of finding comfort during love and loss. Bradley reveals: "This song was written during a time of great personal hardship in the early 1990s. I had lost an artist development opportunity with a record label; I was exiting the military with zero prospects of employment; and I was trying to cope with the emotions that flood in when you come to terms with the fact that you were promptly dumped because you were no longer trending famous." The verses reveal the pain and suffering of heartbreak, and the choruses offer forth hope. In these uplifting portions, Bradley sings with weary soulfulness the refrain: Happiness is a smile on my dog/'n Faithfulness is-how-I-remain/Joyfulness is a sign in the hall/Since every day is sweeter/Here in your town/Here in your town. This is an achingly beautiful snapshot of a person bottoming out and clinging to a song for a crack of light.
Listen (or download here)
Recent Press
Biography & Timeline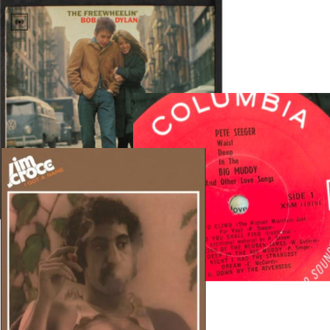 1989
A box of mentors
A rainy winter night at the Fairmont State University studying design, found Bradley sifting through a box of tattered LPs at a friend's house. These Dylan, Pete Seeger and Croce albums sparked the purchase of a nearly unplayable $85 acoustic guitar in Clarksburg WV. 
But the odyssey was underway.
Bradley quickly lost interest in college, despite a full scholarship.  He joined the Air Force in 1992 and began sharpening his unique fingerstyle guitar style by listening to the playing of Maury Muehleisen, Jim Croce and Paul Simon in his barracks room at night.
The timeless classic 'I'll Have to Say I Love You In A Song' spoke to him despite taking over a year for him to learn.  But things changed quickly.
1993
the end of the beginning
On the shoulders of friends and local media, an audition was arranged with a handful of A&R reps in San Francisco.  Bradley was flown out and over the course of a week, showcased his original songs for a handful of record label representatives. 
One label issued a written letter of intent for Bradley to enter their artist development program after completion of his enlistment in the US Air Force.  A life-changing opportunity. 
However, by the time Bradley exited the service, in the summer of 1994 -that label had been absorbed by another label and the A&R rep was gone.
Along with his offer. 
He would carry the form letter with him for years as a reminder of what could have been. 
For the next 26 years the opportunity lost would haunt him.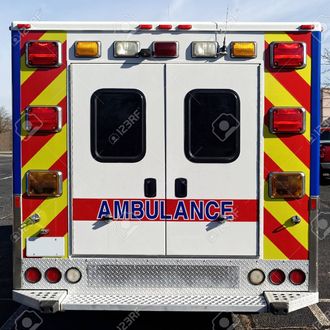 1995
When it rains...
Playing shows at night and working at a fabrication shop during the day, an accident occurred and part of Brad's hand was severed in a serious industrial accident, cutting the tendons to his fingers.  After a long reconstructive surgery and pins placed in several fingers, Bradley lost use of his right hand for nearly a year, making caring for himself extremely difficult and playing his signature fingerstyle guitar impossible.
He would be forced to relearn fingerstyle guitar from scratch after his hand healed.
During the recovery, he filed a slot in the plaster cast, wedged a flatpick in it....and continued to write. 
From 1997-2017 Bradley taught guitar, played music in cover bands, and continued to write...and dream.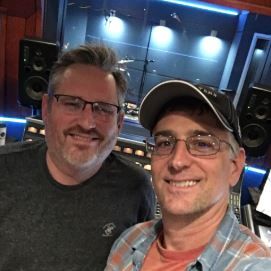 2017
The Bucket list & SERENDIPITY
After a long layoff from a career job in 2016, the futility of climbing the corporate ladder came into sharp focus.  Bradley decided to get serious about addressing his true passion, and in February of 2017 he summoned the courage to reach out to a local Pittsburgh recording studio, called The Vault, to see what would be involved in creating an indie-folk project showcasing some of his original music. 
During the winter of 2017, Bradley's first nationally released EP, an introspective and intimate collection of folk songs called- *Eighty In the Rain* was released.  The title track loosely referencing his legendary lead-foot.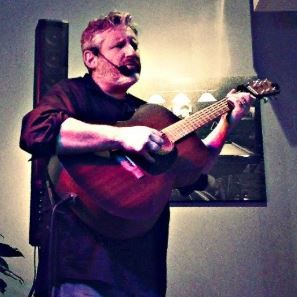 2018
"Do you know the difference between education and experience? Education is when you read the fine print; experience is what you get when you don't. " ― Pete Seeger
Eighty In the Rain found some Pittsburgh area audience and was released on Spotify, Google Music, Apple Music and was distributed on several other music streaming services. Later in the year Pandora added the album to its platform along with iHeart Radio.  However, without a record label and promotion, the album received limited airtime & exposure.  So by late 2018, Bradley had resigned himself to the realities of the music industry as an unsigned artist and entered into preliminary negotiations with a Nashville based publisher/label to sell the rights to his entire music catalog, the culmination of over 25 years of writing.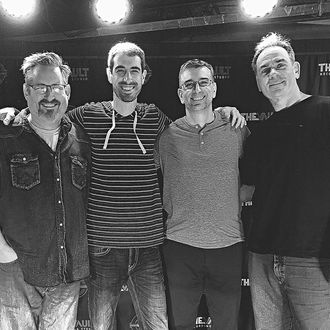 2019
its always darkest before the dawn
The day before mailing the signed contract to the Nashville publisher, Bradley took a chance and sent the contract to Bob McCutcheon, president & CEO of The Vault Records and asked him for a 2nd opinion and to see if it made sense for Bradley to sign it.
It didn't. 
Instead of allowing Bradley to essentially give away his music, Mr. McCutcheon stepped in, signed Bradley to his own record label - The Vault Records - and allowed him to keep the publishing rights to his songs.  Bradley is now recording his latest EP "Shades of Indigo" in a state-of-the-art facility and with none other than the owner himself as engineer & producer.  "Shades of Indigo" is scheduled to release in Summer 2021.